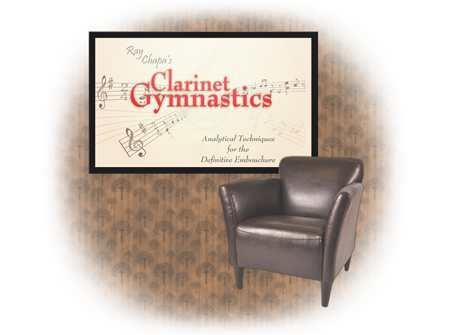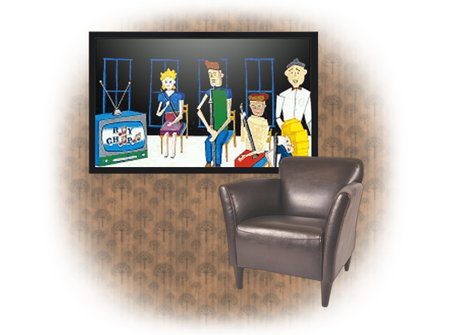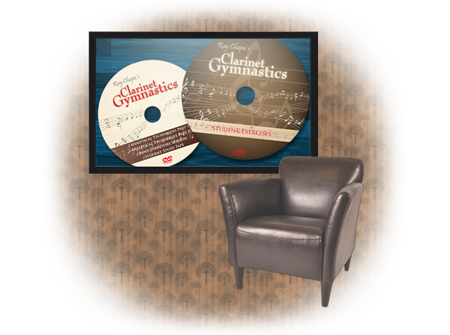 Typically, most clarinet sections play a variety of different clarinets on a variety of different mouthpieces utilizing a variety of different reed brands and strengths which are in varying degrees of deterioration. In addition, the students are using a variety of different embouchures in various playing situations, depending upon the register and whether the articulation requires slurring or tonguing legato or staccato.
NO WONDER THEY PLAY OUT OF TUNE WITH THIN, REEDY SOUNDS AND ARTICULATE POORLY IN THE UPPER REGISTER!
Ray Chapa's Clarinet Gymnastics offers consistency to a section full of inconsistencies and is already being hailed as a break-through in public school teaching.
This beautifully packaged system offers an efficient clarinet embouchure via spectacular computer-generated animation. It is designed to captivate and motivate players at all levels.
Technically simple exercises pinpoint existing embouchural deficiencies and offer a means of monitoring improvement. It is this feedback that has been lacking in traditional textbook and classroom approaches.
The 4-part DVD includes two segments for viewing in separate classroom sessions, a director's version which addresses implementation of the system, and a segment for individual student review.
Set includes DVD, booklet & CDrom to print exercises.
$225.00 plus s/h